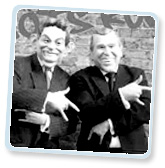 Whack my Bush was made by Nick Hildred and Rikard Bell
Whack my Bush was started by Nick Hildred and Rikard Bell in April 2005. We were literally talking over the tennis net one day when we both said 'Did you see that program on Podcasting last night? You know we could do that!' So started nearly 2 years of great fun and the best creative period we'd both (and the performers) had in years. Our last shows went out in August 2006. Knackered we all needed a rest. During this period we learnt the harsh lessons of the internet - people won't pay for content! WMB was a labour of love for all involved and we wouldn't have traded this for the world. We were early pioneers in this format. Now everyone wants to get involved or has their very own podcast. We both described this show as an audio cartoon with plenty of fart jokes and some swearing. We don't apologise for Tony screaming 'fuckity, fuck , fuck!' at Prescott. It just made us laugh.
Nick Hildred
As a comedy writer Nick has worked on a large variety of television shows from the Big Breakfast, Johnny Vaughan Tonight, Light Lunch and even helped the balls roll on 'The National Lottery Show'. For BBC Light Entertainment Radio Nick has written two series of the R4 sitcom 'Mammon', co-developed and wrote the quiz shows 'Whispers', 'Where In The World' and 'Who Goes There?' as well script editing a variety of other comedy programmes.
Rikard Bell
Rikard also wrote for the Big Breakfast, as well as Rory Bremner, The 11 O'Clock Show, Brian Conley and others. He worked at Thames Televison as a script editor and development writer on a variety of programmes including 'Open house with Gloria Hunniford' and 'Bravado'. For BBC Light Entertainment Radio Rikard wrote for 'The Games up' 'Week Ending' and co-developed R2's comedy sketch show 'What On Earth?'. He also runs and comperes a couple of Comedy Clubs in London.
Below are the original descriptions of our cast and Chris who designed the website! Plenty has changed and they've all gone on to other things NB I didn't say bigger and better, but you get the drift.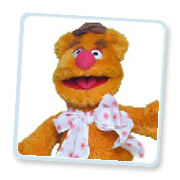 Stefano Paolini


Hugely talented impressionist, whose credits include 'Deadringers' for BBC Radio 4, BBC2's 'Double Take', Channel Four's 'Bromwell High'. A real pro - he's only doing this due to blackmail.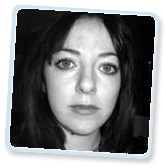 Diane Morgan


Actress and Comedian. Appeared in series two of Peter Kaye's brilliant 'Phoenix Nights' on channel Four. Essentially, everything from theatre to prostitution. Contact details in a telephone box near you.
James Dowdswell


One of the Uk's leading Stand-ups. Spends his time roaming the country like a feral fox and we found him living in a bin. Has worked for food. Panto? Fuck off.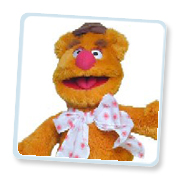 Chris Percival


The tech-gimp with grand designs - one of which is this website. Nick and Rik kidnapped him while he was drinking in a pub near Clapham Junction. He's currently chained up in Nick's basement, but seems to like it down there.
Whack My Bush was recorded in the Comedy Club at the Bedford Pub, 77 Bedford Hill, Balham. London. If you listen hard you can hear the trains go past!
Many thanks to Roberto, Tony Moore, Greg and all the gang who've put up with our demands for fresh drinking water.